Go Back
Baby and Pre-School Diploma
The STA Level 3 Diploma in Aquatic Teaching – Baby and Pre-School offers progression for level 2 qualified baby swimming teachers looking to expand and develop technical knowledge, supported by the latest academic research and theories.
The Learner
The STA Level 3 Diploma in Aquatic Teaching – Baby and Pre-School can be undertaken by level 2 baby swimming teachers looking to expand their knowledge and skills in baby swimming. Successful completion of this qualification allows the learner to identify as a level 3 baby swimming teacher and continue to deliver specialised swimming lessons to babies, toddlers and their accompanying adults.
What skills and attributes make a good baby swimming teacher?
 Interest in Swimming
 Confidence around babies and children
 Confidence leading a group
 Creative
 Enthusiastic
 Enjoy working with people
 Good role model
 Good organisation
 Patience
 Empathy
 Sociable
Who does this qualification appeal to?
Learners may complete this qualification for a career specifically in swimming teaching. Alternatively they may undertake this qualification to compliment another role.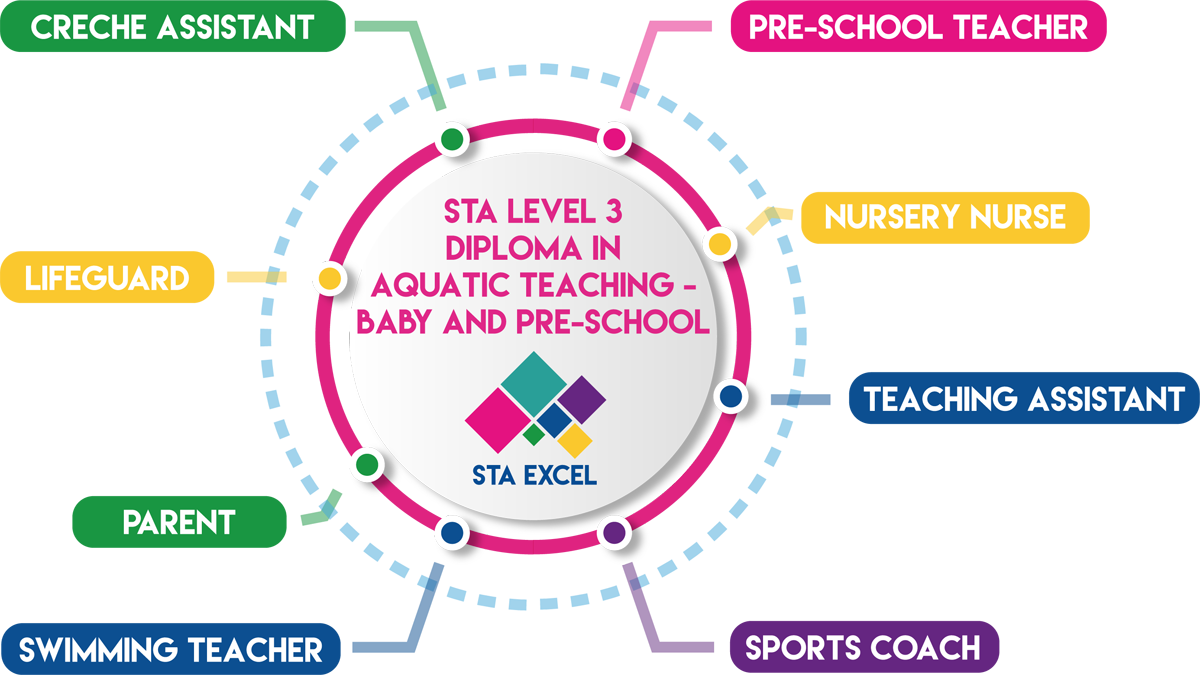 The Course
The course is comprised of a mixture of theory content and practical poolside learning, enabling the learner to acquire the specialised technical knowledge and practical hands on experience of the baby swimming teacher role.
Learners will expand on their current knowledge and learn the latest developments in baby and pre-school swimming practice. The Diploma covers communication, gentle approaches to swimming, baby and toddler development, transition to independent swimming, submersions, babies and pre-schoolers with additional needs and the importance of reflection as a teacher.
The following units are covered within this qualification:
Communication within Baby and Pre-School Swimming Lessons
Gentle Approach to Swimming
Submersions within Baby and Pre-School Swimming Lessons
Childhood Development Stages and Transition into Independence
Learning and Play within Swimming Lessons
Sensory Awareness within Swimming Lessons
Babies and Pre-Schoolers with Additional Needs
Reflecting upon Own Skills and Practice
Safeguarding Children, Young People and Vulnerable Adults
Planning, Preparing and Teaching Swimming
Baby and Pre-School Swimming
Assessment
The STA Level 3 Diploma in Aquatic Teaching – Baby and Pre-School is tutor-assessed through the completion of:
Portfolio
Worksheets
Case studies
Lesson plans
Lesson evaluation
Reflective journal
Learners have 9 months to complete and submit all post-course work.
Renewal
This course does not carry an expiry date—instead learners are encouraged to keep their knowledge and skills up-to-date through completion of continuing professional development (CPD).